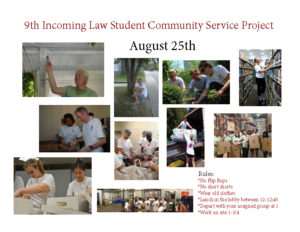 9 years of bonding! 9 years of 1L's along with faculty and staff members serving the community! 9 years of starting a legal career with a demonstrated commitment to service!
On August 25 the Class of 2020 will gather for lunch between 12 and 12:45 in the Lobby of the new law school and when Dean Wilcox blows the whistle a 1 everyone will scatter to one of 14 different assigned loc
ations in the Midlands. Ranging from the SC Disciplinary Counsel to the Irmo Branch of the Lexington Library the sites also include some of our Pro Bono Program partners such as the SC Appleseed Legal Justice Center, SC Legal Services, Richland County CASA and the Richland County Public Defender's Office.
The tasks will vary and depend on the needs of the site. Each site will also use the opportunity to educate the students about the needs of the community and how they help solve the problems faced by our citizens.
Who else joins in?  In addition to the Class of 2020, members of the faculty and staff join in the effort.
As one student noted "this is a great way to start off my career; it helps me feel connected to my class and my new community; I am going to love this profession!"