Class of 2004
Beaufort County Public Defender's Office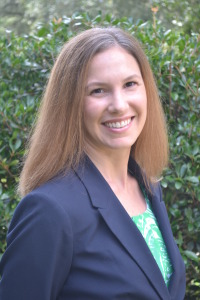 As an assistant public defender, Helen Roper Dovell is responsible for helping represent the bulk of criminal defendants in Beaufort County, South Carolina.  Dovell channels her passions for helping others and making sure justice is administered into every aspect of her work.
"Public defenders are definitely the heart of public interest work," says Dovell, a 2004 alumna who has been an assistant public defender in Beaufort, South Carolina since 2008. In her position, she strives to make sure that the law is applied fairly in every case.
"People need to be treated as people, and if you don't have someone advocating for you, it's easy for you to become just a number," says Dovell. "It makes me happy to know that I can help prevent that from happening."
Dovell's passion for serving others, a driving force in her everyday life, was born during her time at USC Law, and in particular as a member of the Pro Bono Program. In fact, volunteering on pro bono projects, including as treasurer of the Public Interest Law Society, was highly influential in her decision to become a public defender.
The thing that I took away from law school more than anything else was that being a lawyer is a service. It's not just a profession or a career, but it's something that you take on as a responsibility for the people in your community.
Dovell's participation in other volunteer activities reflects the influence that the Pro Bono program continues to have on her desire to serve. For instance, as a member of the Beaufort Young Lawyers Division of the South Carolina Bar, Dovell annually helps them volunteer at Beaufort's Water Festival, which raises money for various charities.
In 2011, Dovell volunteered with the Leukemia and Lymphoma Society's Team in Training where she trained for a marathon and raised over $3000 for leukemia and lymphoma research. Additionally, Dovell served as the chair of the Law Student Liaison Committee.
"The thing that I took away from law school more than anything else was that being a lawyer is a service. It's not just a profession or a career, but it's something that you take on as a responsibility for the people in your community."